I've looked through the pile of all my in-progress projects... I've made my decision as to what I'm going to finish!
But it wasn't easy...
First cut was to see if any of them needed something extra in order to complete them. That would be unusual for me, I tend to pick up stacks of add-on bits for most of the models I own, resin details, etched fittings, bits and pieces I make from sheet plastic card and stuff I have lying around, but occasionally a project gets started and only then do I find I'm lacking something I want in order to do a good job of the finished article, so a few of the pile were set aside for that reason...
Next, the amount of work involved.
Don't get me wrong, I really enjoy the building process, I guess thats my mechanical and engineering side coming out, I like fitting and fettling the parts of a kit until it fits the way I want it too. I hate wodging a pile of filler putty into a gap in a model 'cos it doesn't fit right, its plastic, work the part until it fits properly, not really rocket-science!
All the same I made a decision not to pick up a project that called for major surgery or re-working of parts or lots of fitting. That would bog me down and my work and lifestyle would soon take over again, I wouldn't have the time to devote to the job.
The other thing I decided was to try to cross over the sub-genres I dabble in as much as I could, I make model aircraft in 1/48th and 1/32nd scale, some armour and soft-skins in 1/48th and 1/35th and ships in 1/350th and 1/700th, I've also got a few sci-fi kits of various scales tucked away as well and I've always made and painted miniature figures, from 1/48th resin WWII to 120mm white-metal figurines.
The one theme underlying it all is that it represents the forces of the British Empire or Commonwealth, almost exclusively, I have a few (very few) kits outside that theme, mainly of types that have piqued my interest, I have a 1/32nd Stuka and a 1/48th Dornier in the cupboard, mainly because I got them dirt cheap but also because they are both interesting subjects. I also recently acquired my first Messerschmitt in nearly 40 years! Dragons superb new Bf109-E4! I had to buy it really, its such a nice kit!
All that said 1/48th looks to be the favourite, I have a nearly-complete model airplane, and some figures, and to top it all a military vehicle to include in a simple diorama!
The plane, a Tamiya Beaufighter Mk.VI that I've converted into an early Mk.I nightfighter, has only been sitting there for 15 years so far, its time has come ;-) All it needs is a new 'towel-rail' antenna added to the underside of the fuselage, that will be its third one, the first was too long and the second was along the centreline which would stop the crew hatches from opening! D'oh!
The figures are a rather neat pair of cast resin RAF aircrew from CMK, both are one-piece and short of a scrub to clean off any mould release and a coat of grey primer are as ready to paint as might be expected!
The vehicle is an Accurate Armour Standard Tilly acting as a crew bus, it still needs a driver but I have an idea about that! I built it some months ago intending to finish it as part of a 1/48th armour diorama but that proved a little ambitious!
Here is the Tilly...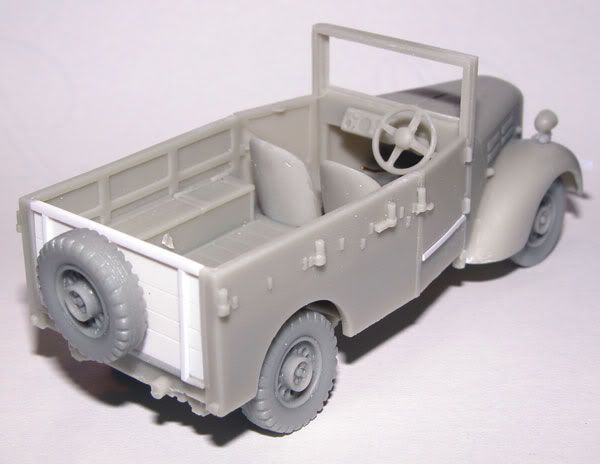 The intent of the diorama is to portray a scene at dusk of the Beau's crew being dropped off at dispersals to prepare for the nights sortie.
And you gentle reader will be the judge of how successful I am!